Loughborough Road
by Alan and Simon Paley
Photographs by Andy York, Courtesy of BRM
---
Loughborough Road could be almost anywhere in the UK, there being examples inNottingham, Leicestershire and Brixton, and no doubt elsewhere as well. Our Loughborough Road is in West Bridgford (without an e – pointed out to us at an exhibition by someone who had been born there – red faces all round!). The layout is a "might have been" fantasy but includes some real features. My Grandfather lived on Loughborough Road in West Bridgford in the late 19th Century and had a boot and shoe business with shops – at various times – in Nottingham (in Cheapside), Carlisle and Chorley. His home in Loughborough Road has become a factory on our model.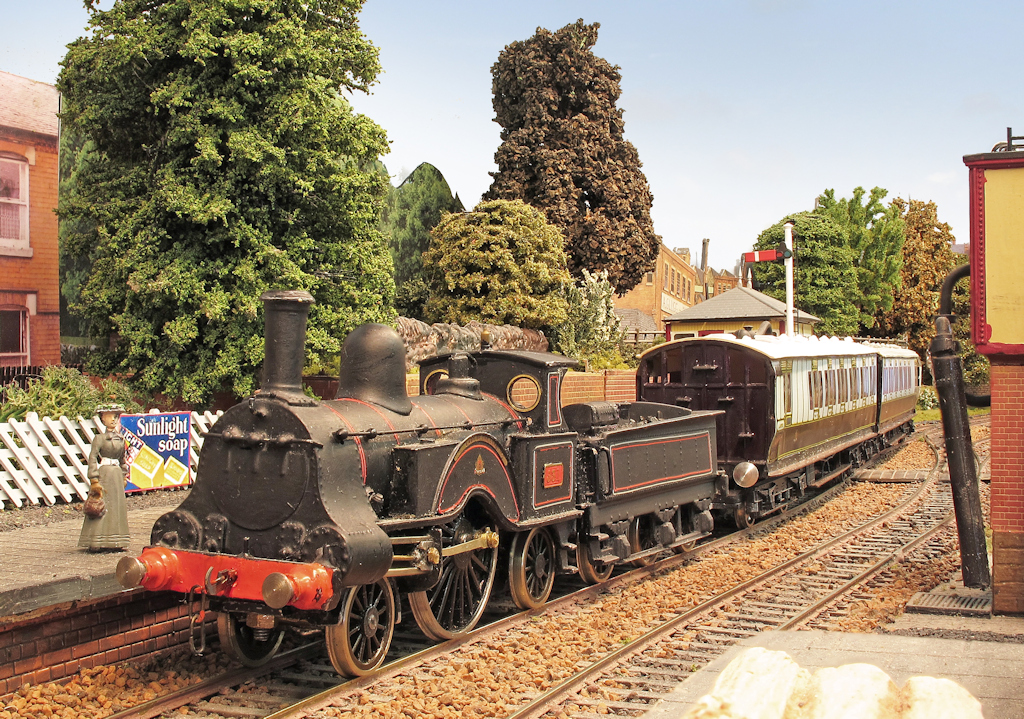 Loughborough Road is a main road running south from Nottingham through West Bridgford to – Loughborough. The Midland Railway line linking Kettering/Melton Mowbray/Nottingham runs through West Bridgford and slightly further East was the London North Western and Great Northern Joint Railway line built to link Market Harborough & Peterborough/Melton Mowbray/Nottingham. There is no evidence that any station was proposed for West Bridgford but it is not entirely impossible that the good citizens of West Bridgford – in 1900 a thriving and growing Nottingham suburb – might have ambitiously established a terminus for the Midland and London North Western Joint Railway and all linked into a growing Nottingham suburban railway network. Just to the North of our imagined station is Trent Bridge Cricket Ground. The council apparently managed to find a narrow site allowing access to the station between the Paley & Co. factory and what became the Midland hotel and signalled by Mackenzie and Holland.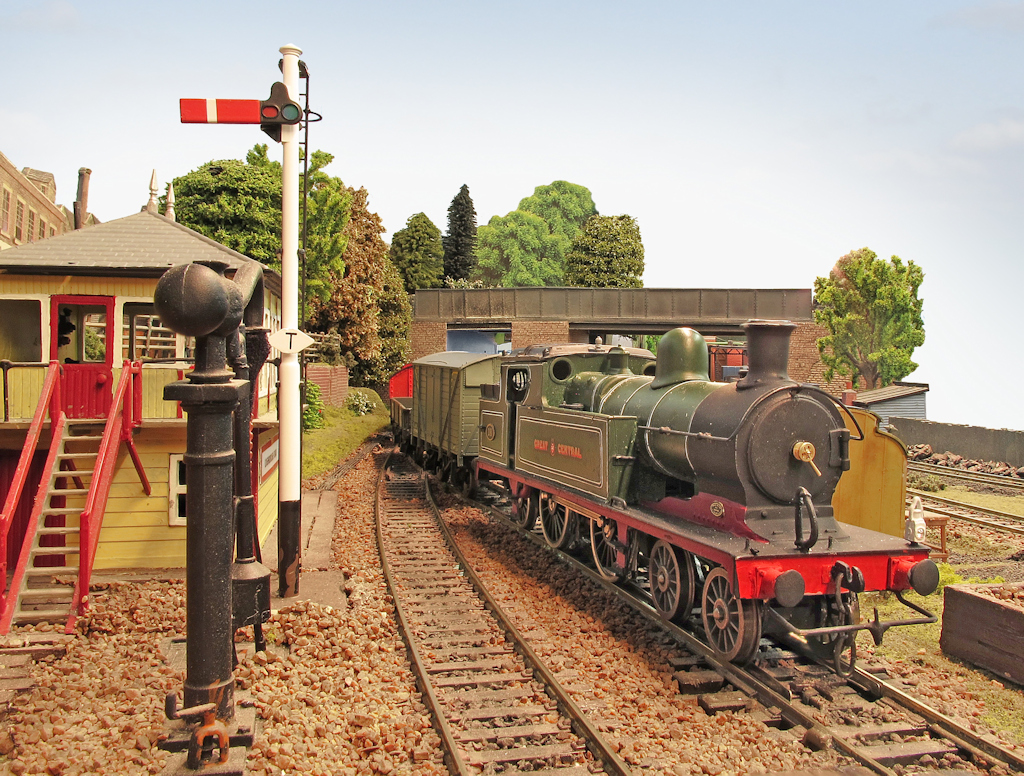 The station has one regular passenger platform and a small goods yard. The council were anxious to promote their town and funded a traverser at the platform end which allows all but the largest engines to escape. This bears a strong resemblance to the GWR Moor Street traverser – there were 2 there but the remains of only one are visible today – and no doubt was built by the same contractor. Commerce through the Goods yard reflects the area – Paley & Co moved their boots and shoes to their other locations, gunpowder vans deliver explosives to local mines (no health and safety restrictions to protect the local citizens?) and there seems to be an awful lot of large beer kegs. For some reason a daily Lancashire and Yorkshire train (presumably its final stop) delivers fish and fish products from Fleetwood to the Cod Liver oil factory. One wonders why East Coast fish are ignored. Red brick seems to be the local building choice. The Loughborough Road Miners association has its meeting rooms overlooking the station.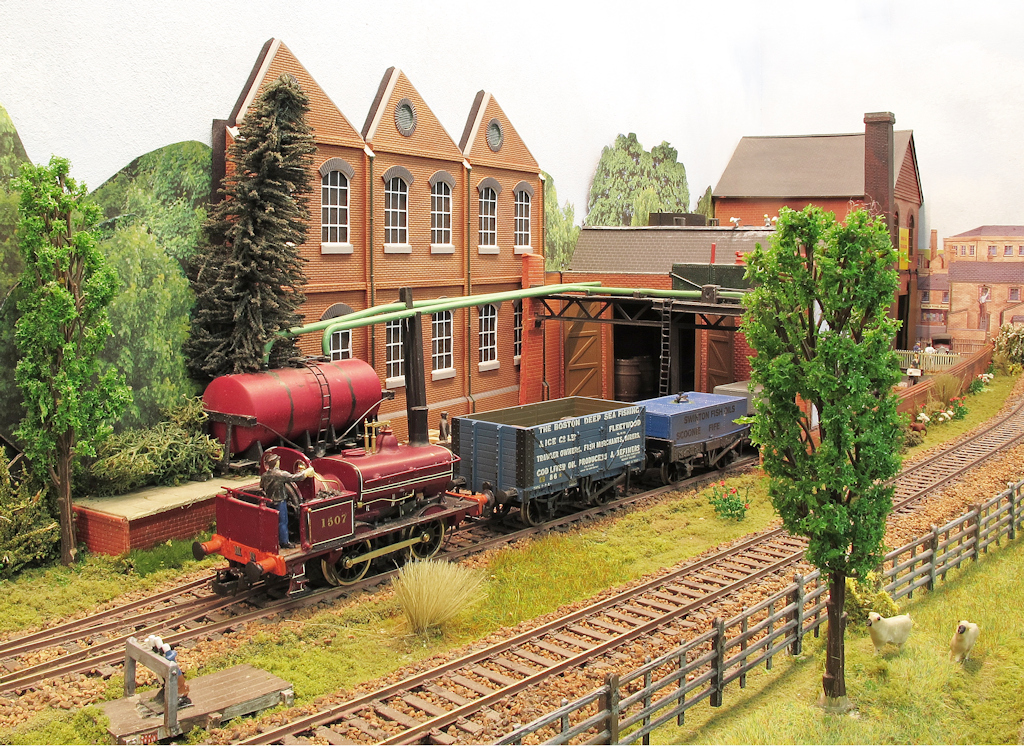 The 00 layout is a fiddle yard to terminus scheme built on a slight curve with a size of approx. 11 feet by 3 feet excluding operating area – there are lots of comments that there are no straight lines but the curved track disguises three straight baseboards joined at angles. The time period is pre-1900 to 1930 allowing the use of Midland, LNWR, L&Y, GC and LMS passenger and goods stock. Layout operation requires thought and planning – and the use of a station pilot – to shunt goods vehicles into and out of the limited goods yard. Stock and buildings are mainly kit bashed and are currently DC operated. There is no Control Panel. All devices (points, uncouplers and loco isolation) are operated through RF handheld controllers and locos through DC handheld Feedback controllers. The layout is operated primarily from each end of the front with Fiddle Yard activity at the back.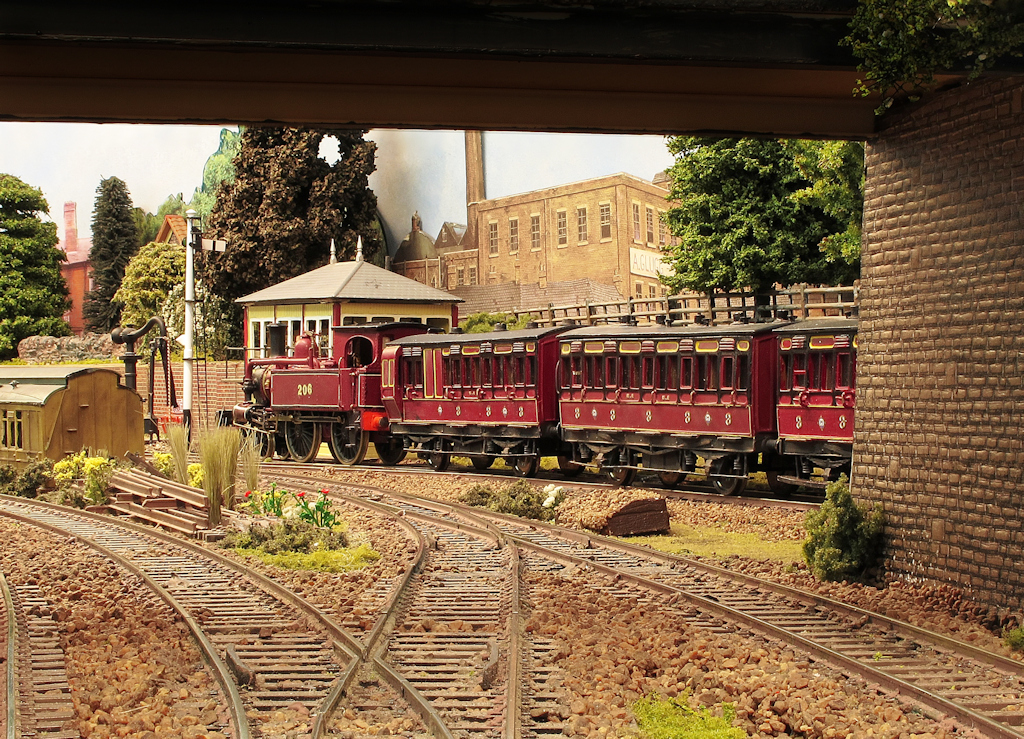 An inspiration for this layout came from Graham Muspratt. My son and I have helped with his layout at exhibitions from time to time and he has included little cameos featuring his Father and Grandfather – a very personal touch which brings, for me at least, the layout to real life. Loughborough Road includes not just a "real" location where my Grandfather lived but has allowed me to use the names of other members of my and my wife's family. The layout was featured in British Railway Modelling (magazine and DVD) in July 2015.




The layout requires a space of 18' by 10' allowing access and room to operate. We normally expect the layout and stock to be insured for £3500.

If you wish to book this layout for your show then please contact Alan Paley email loughboroughroadATrdmrc.org.uk replacing AT with @